Rutherford County Resources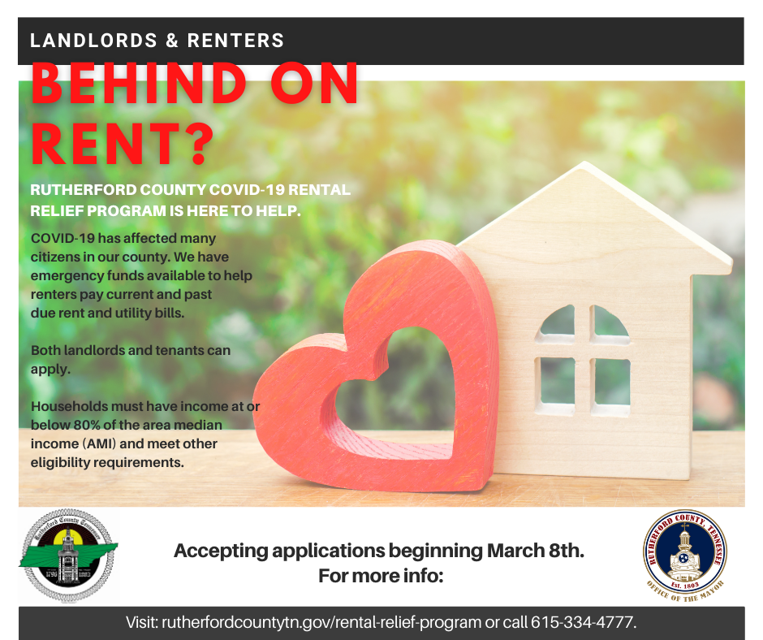 The COVID-19 pandemic has created unprecedented challenges. Many Rutherford County residents have experienced a loss in income due to the pandemic. Rutherford County has allocated funds to assist with rent and/or utilities for residents struggling financially.
Find out more about this program including eligibility requirements by visiting http://rutherfordcountytn.gov/rental-relief-program.
A hotline is available from 8am-4:30pm on Monday to Friday and 9am-12pm on Saturday. Call 615-334-4777 to speak to a representative  about this program. 
Health and wellness support services are necessary to keep communities healthy.    
On the path to recovery, individuals may need help with their health, living arrangements, jobs, and social support. 
Services at the health departments include the WIC (Women, Infants, and Children) Program for nutritional support and food vouchers, routine immunizations for all ages, prenatal care including help enrolling in TennCare, breastfeeding services, and dental services for youth and young adults under age 20. 
General health services – including health care for individuals with TennCare, the underinsured, and the uninsured – are offered at the St. Louise Clinic, the Primary Care & Hope Clinic, and Matthew Walker Comprehensive Health Center. 
General Healthcare Resources:  
TriStar StoneCrest
Medical Center
 200 StoneCrest Blvd. 
Smyrna, TN 37167
615-768-2000
Rutherford County Health
Department     
100 West Burton St. 
Murfreesboro, TN 37130
North Rutherford County
Health  Department    
108 David Collins Drive 
Smyrna, TN 37167
St. Louise Family Medicine
Center
1020 N. Highland Ave. 
Murfreesboro, TN 37130
615-396-6620
Interfaith Dental Clinic
210 Robert Rose Drive 
Murfreesboro, TN 37129
615-225-4141
Rutherford County Dept.
of Human Services
1711 B Old Fort Parkway 
Murfreesboro, TN  37129
615-848-5107
Mid-Cumberland
Community Action Agency   
 1406-A West College Street
Murfreesboro, TN 37129
615-893-8938

Are you struggling with substance use?