What is We C.A.R.E.?
Mission Statement: to purposefully create and foster relationships to engage our community in ending the opioid epidemic.
We C.AR.E. is a group of concerned community members of Rutherford County. The strength of We C.A.R.E. is the many different backgrounds and experiences of the members.
Community: Engage and coordinate everyone willing to help with prevention and recovery efforts related to ending the opioid epidemic
Alternatives: Champion and promote prevention, treatments, devices, and alternative choices to opioids
Relationships: Reduce stigma and remove barriers to improve access to treatment for those with opioid use disorder
Education: Educate the community, providers, and law makers about opioid use disorder and strategies to end the epidemic
We C.A.R.E. holds monthly meetings at 12 p.m. on the 2nd Tuesday of each month in the McDonald Conference Room of St. Thomas Rutherford Hospital. The meetings are open to the community and all are welcome to join us.
We C.A.R.E. is a committee of the Prevention Coalition for Success, Inc., a 501(c)3 non-profit organization.
About Opioids and the Epidemic
Opioids are a class of drug that includes prescription pain relievers (oxycodone, hydrocodone, codeine, morphine, and others), heroin, and fentanyl.
In 2018, an opioid overdose resulted in the death of 1,304 Tennesseans. 68 of these deaths occurred in Rutherford County.
https://www.tn.gov/opioids.html
For information about the epidemic:
TN Together
A comprehensive plan and set
of resources from the State of
TN to address the opioid crisis.
For current state and
county statistics, visit the data
dashboard:
National Institue on Drug
Abuse
Opioids
abuse/opioidseducareprograms.org
The Sycamore Institute
An independent, nonpartisan public
policy research center for Tennessee
Substance abuse information:
sycamoreinstitutetn.org/opioid-
TN Department of Health's
Faces of Opioids
Sharing stories from Tennesseans
Substance Use Disorder
If use of a substance such as alcohol or drugs causes negative health effects or causes problems at home, work, or school, this may be substance use disorder. Substance use disorder can be mild, moderate, or severe.
Severe substance use disorder is also known as addiction. A main characteristic of addiction is continued use of the substance despite harmful consequences.
The latest science describes addiction as a brain disease because use of a substance changes the circuits in the brain that regulate reward, stress, and self-control. Correcting these 'rewired' circuits takes a time even after stopping use of the substance.
The continuum of care for substance use disorder starts with prevention followed by treatment then recovery.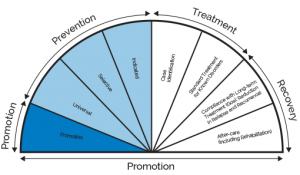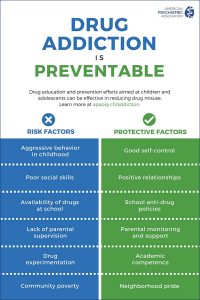 What is Addiction?
The American Psychiatric
Association
The National Institute on
Drug Abuse
Resource for addiction science
U.S. National Library of
Medicine
Substance Use Disorder
Substance Abuse and
Mental Health Services
Association (SAMHSA)
Agency within the U.S. Dept. of
Health and Human Services
leading the public health effort
to advance behavioral health.
Prevention
The best method to prevent substance use disorder is to prevent the initial use of the substance.
Prevention is any activity aimed at avoiding substance abuse and reducing social and health consequences.
Prevention takes place in different forms and settings. Here are a few examples:
Awareness campaigns and educational events increase knowledge about the risk of substance abuse
Supporting parents including tips for talking to their children about the risk of substance abuse.
After-school activities to support youth with positive peer groups and role models
Prevention efforts aimed at root causes of substance abuse such as trauma, adverse childhood experiences, and resiliency.
Drug take-back events remove addictive medications from the environment. To properly dispose of unused medications at any time, locations of permanent drop boxes in Rutherford County are on the flyer below:
For more information about prevention:
Prevention Coalition for
Success, Inc.
A non-profit organization with a
goal to make Rutherford County
healthier by preventing
prescription drug abuse, alcohol
abuse, and tobacco use in
youth and young adults.
TN Department of Mental
Health and Substance
Abuse Services
Prevention information
including a best practice guide
and substance abuse
prevention coalitions across the
state.
Community Anti-Drug
Coalitions
of America (CADCA)
A non-profit committed to creating
safe, healthy, and drug free
communities globally.
Addiction Policy Forum
What is Prevention?
Risk and protective factors
addictionpolicy.org/risk-and-
protective-factors
Building Strong Brains
Learn about adverse childhood
experiences, brain
development, and early
childhood from the TN
Commission on Children and
Youth.
Trauma Informed Approach
Trauma informed approach
learning community including a
short video from The National
Council for Behavioral Health
Count It! Lock It! Drop It!
Prescription drug take-back program.
DEA Drug Take-Back
National drug take-back days
address a critical public health
and safety issue.
Blueprints for Health Youth
Development
Evidence based programs for a
variety of populations and
settings.
Substance Abuse and
Mental Health Services
Association (SAMHSA)
Screening, Brief Intervention,
Referral to Treatment (SBIRT)
Students Taking a Right
Stand (STARS)
A Nashville based non-profit
providing evidence-based
programming to over 160
school and community sites in
Middle Tennessee.
TN Together: Ending the
Opioid Crisis
Opioid related resources and
community solutions to an ongoing
crisis. Get involved by completing
activities and posting success
stories.
Resilience: Build Skills to
Endure Hardship
Information about resiliency
from the Mayo Clinic including
'A Very Happy Brain' video.
Tennessee Suicide
Prevention Network (TSPN)
Eliminating the stigma of
suicide.
A resource for suicide
prevention training and
information.
Treatment
There are different treatment options for substance use disorder. Treatment should include counselling or behavioral therapy. Medication Assisted Treatment (MAT) is often used to treat severe substance use disorder involving an opioid. It is important to talk to your doctor and your treatment provider to develop a treatment plan.
Addiction is a chronic disease and relapse may occur. Relapse is not moral failure or lack of will-power. Relapse may mean that more treatment or a different type of treatment is needed.
Navigating the treatment process can be confusing and overwhelming. Here is some of the language you might encounter when discussing treatment:
Detox – Detoxification; the medical treatment of the physical effects of withdrawing from a substance
Residential treatment – longer term, in-patient treatment
Partial Hospitalization Program (PHP) – intensive clinical services lasting all day for weeks provided in an outpatient setting; a step below in intensity from residential treatment
Intensive Outpatient Program (IOP) – clinical services lasting several hours per day on several days per week; a step below in intensity from partial hospitalization programs
Medication-Assisted Treatment (MAT) – use of a medication to treat substance use disorder; for opioids, this may include buprenorphine, methadone, or naltrexone
Recovery residences – alcohol and drug free living facilities often providing temporary housing during treatment; also called sober living houses
These definitions are from the Recovery Research Institute. The link to this resource is below.
For more information:
Center on Addiction
Glossary of Addiction Terms
centeronaddiction.org/addiction/glossary
Recovery Research
Institute
Addictionary
recoveryanswers.org/addiction-ary/
American Society for
Addiction Medicine
A professional medical society
for physicians in the field of
addiction medicine
Tennessee Association of
Alcohol, Drug, and other
Addiction Services (TAADAS)
Recovery
Even though the terms treatment and recovery are often used simultaneously, these are two different concepts.
There are multiple definitions of recovery. The Substance Abuse and Mental Health Services Administration (SAMHSA) describes recovery as a "process of change through which people improve their health and wellness, live self-directed lives, and strive to reach their full potential." Health, home, purpose, and community are four dimensions involved in recovery.
The Recovery Research Institute's Addictionary defines recovery as "the process of improved physical, psychological, and social well-being and health after having suffered from a substance use disorder."
It is important to support those in recovery. Support from friends, family, support groups, behavioral health services, and the faith community are all support systems that can help sustain recovery.
For more information:
Substance Abuse and
Mental Health Services
Association (SAMHSA)
Agency within the U.S. Dept. of
Health and Human Services
Recovery Month
Dept. of Health and Human
Services (HHS)
Recovery Resources and Tools
hhs.gov/opioids/recovery/recovery-
Recovery Within Reach
Recovery information including
information for Certified Peer
Recovery Specialist
Faces and Voices of
Recovery
Supporting individuals in long-
term recovery including
support of the national recovery
movement and fighting the
stigma addiction.
Recovery Research
Institute
A non-profit research institute
of Massachusetts General
Hospital, an affiliate of Harvard
Medical School, dedicated to
the advancement of addiction
treatment and recovery.
Tennessee Dept. of Mental
Health and Substance
Abuse Services Faith-Based
Initiative
Leveraging caring individuals
and faith communities as a
means to help address addiction
in our state.
Harm Reduction
According to the Tennessee Department of Mental Health and Substance Abuse Services, harm reduction is a way of preventing disease and promoting health that meets people where they are rather than making judgments about where they should be. Scientifically- proven ways of mitigating risk associated with use are essential. This includes the distribution of the lifesaving opioid overdose antidote Naloxone.
Syringe exchange programs are another example of harm reduction. Harm Reduction International includes non-abstinence based housing and employment as examples of harm reduction.
The TN Department of Mental Health and Substance Abuse Services Regional Overdose Prevention program offers naloxone training sessions. Attendees receive a free kit with two doses of Narcan, the nasal spray version of Naloxone. For more information about these training sessions, contact:
Sarah Murfree, director of the Prevention Coalition for Success at smurfree@pc4s.org
Trey Dees, the Regional Overdose Prevention Specialist for Rutherford County at tdees@wcadctn.org
For more information:
Tennessee Dept. of Mental
Health and Substance
Abuse Services Regional
Overdose Prevention
Specialist (ROPS)
Providing training on opioids,
opioid overdose prevention, and
supplying Naloxone.
health/substance-abuse-
services/prevention/prevention
/rops.html
Harm Reduction
International
An international, non-
governmental organization
Street Works
A non-profit organization
providing free, confidential HIV
testing and services to Nashville
and Middle Tennessee.
Nashville Cares
A non-profit with a mission to
end the HIV/AIDS epidemic in
Middle Tennessee.
Substance Abuse and
Mental Health Services
Association (SAMHSA)
What is Naloxone?
assisted-treatment/
treatment/naloxone
National Institute on Drug
Abuse
Opioid Overdose Reversal with
Naloxone
reversal-naloxone-narcan-evzio
Neonatal Abstinence Syndrome
According to the University of Rochester's Medical Center health encyclopedia, neonatal abstinence syndrome (NAS) happens when babies are exposed to drugs, including opioids, in the womb before birth.
For more information:
180 Health Partners
StrongWell – A program for
mothers with prenatal
addiction to build bridge
between mothers and better
outcomes.
March of Dimes
Neonatal Abstinence Syndrome
The Mayo Clinic
Women's Wellness: Opioid Use
During Pregnancy.
Vanderbilt University
Medical Center
Neonatal Abstinence Syndrome
and Opioid Policy
abstinence-syndrome
University of Rochester
Medical Center Health
Encyclopedia
More information…
For even more informational resources about substance use disorder, prevention, treatment, and recovery, click on the links below.
Shatterproof
A national non-profit
organization dedicated to
ending the devastation
addiction causes families
Faces and Voices of
Recovery (FAVOR)
– South Carolina
Recovery resources, advocacy,
and education.
National Academy of
Medicine
Action collaborative on
countering the U.S. opioid
epidemic.
National Alliance on Mental
Illness (NAMI)
Dedicated to building better
lives for the millions of
Americans
Center for Disease Control
and Prevention
Learn about Mental Health:
Adverse Childhood
Experiences:
childabuseandneglect/acestudy/
TN Commission for Children
and Youth
ACEs Primer Video with
Research Design
Albert Family Wellness Institute
Brain Development and
Lifelong Health
What is addiction?
TEDMed 2014
Nadine Burks Harris –
"How Childhood Trauma Effects
Health Across the Lifespan"
Crash Course Psychology:
Trauma and Addiction
The Chemistry of Addiction
Understanding the Opioid
Epidemic by PBS
The Science of Opioid
Addiction and Treatment –
PBS Nova

Are you struggling with substance use?

Addiction and Mental Health Referrals
Call or Text the Tennessee REDLINE:
1-800-889-9789